Zoos are prisons for animals – no one needs to see a depressed …
Close
Popular
KQED Home
Listen Live
Watch Episodes
Podcasts
Radio Schedules
TV Schedules
Mobile/Apps
Donate
Sections
Radio
TV
News
Arts
Food
Science
Education
Support KQED
About KQED


Public Media for Northern California

Should Animals Be Kept in Zoos?
By

SENCER
Share
Click to share on Facebook (Opens in new window)

Click to share on Twitter (Opens in new window)

Click to share on Pinterest (Opens in new window)

Click to share on LinkedIn (Opens in new window)

Click to share on Google+ (Opens in new window)
This post is part of KQED's Do Now U project. Do Now U is a weekly activity for students and the public to engage and respond to current issues using social media. Do Now U aims to build civic engagement and digital literacy for learners of all ages. This post was written by Sophia Buscher and Victoria Staudenraus, students at St. Mary's College of California , in partnership with the Lindsay Wildlife Experience .
Featured Media Resource: VIDEO:  Zoo Conservation Raise Debate  (CNN)
Hear opposing thoughts from a field biologist at the University of York and the president of the Born Free Foundation about keeping animals in zoos for conservation purposes.
---
Do Now U
Do you think animals should be kept in zoos?  #DoNowUZoo
---
How to Do Now
To respond to the Do Now U, you can comment below or post your response on Twitter. Just be sure to include #DoNowUZoo and @KQEDedspace in your posts.
---
Learn More about Animals in Zoos
Although wild animals have been held captive for thousands of years, the first modern zoo opened in 1763 in Paris, France. As people became more interested in science and natural history, zoos served as a way to display and study animals. Today, zoos provide opportunities for public education and entertainment, as well as scientific research and conservation. There are about 2,800 licensed animal exhibitors throughout the U.S., which include zoos, circuses, petting farms, wildlife and marine mammal parks, and some sanctuaries. Out of these, 233 are accredited by the Association of Zoos and Aquariums (AZA). The AZA " holds animal exhibitors to high standards of animal care, science and conservation " in the United States and all over the world. Even though many animal exhibitors are still considered zoos, they have not met the requirements of the AZA and, therefore, have not been accredited.
Proponents of zoos point to the fact that they educate the general public, are beneficial for scientific research, and work toward conservation efforts and captive breeding. At the San Francisco Zoo, there are educational programs for children ages 1-17. From camps, to mobile programs that bring smaller animals to schools, to family activities that look at local wildlife near the zoo, the public is able to get hands-on education about animals they may not be able to meet and learn about otherwise. The Lindsay Wildlife Experience in Walnut Creek, California, offers similar experiences to connect locals with wildlife and educate people on how they can do small things to help benefit wildlife in urban areas. Zoos can also be beneficial for scientific research. Studies are sometimes better able to be completed in zoos because of the controlled environment of a zoo. Lastly, zoos help endangered populations by using captive breeding and release. The AZA's Species Survival Plan Program is a long-term plan that incorporates conservation breeding, preservation of habitat, education and research to support the survival of threatened and endangered species. Many zoos also work on local conservation efforts to maintain local wildlife populations.
On the other hand, many would say that wild animals should not be held in captivity. It has been argued that captive breeding isn't always effective, zoos do not provide natural habitats, and that zoos put unnecessary stress on animals. Some studies have shown that reintroduced animals have high mortality rates because they are poorly adapted and lack the skills needed to survive in the wild. Since an animal's well-being is dependent on their environment, some contend that zoos do not provide healthy habitats for animals. Enclosures–even when designed to mimic an animal's natural habitat–are still not really natural. And, zoos can't really provide the space that large or wide-ranging animals, like elephants, are used to. Due in part to unnatural enclosures, animals in zoos are under stress . Animals are often bored and, as a result, some become aggressive and can lash out at other animals or zookeepers. In a study done on 40 chimpanzees in six different zoos, all of the chimps exhibited behavior their counterparts in nature did not. Some of these behaviors included rocking back and forth, tearing out their hair, self-mutilation, and the drinking of their urine. This behavior is not seen in their wild counterparts suggesting that being in the zoo is causing these chimps to develop mental illness due to stress.
What do you think? Should animals be kept in zoos? Why or why not?
---
More Resources
Video: DNews
The Pros & Cons of Zoos
Hear about some of the benefits zoos and some of negative effects that they have on animals.
Video: BBC
Horizon: Should We Close Our Zoos?
This clip briefly examines the history of zoos, and questions experts and professionals about keeping animals in small enclosures.
Audio: WNYC
A Passionate Call to Leave Animals Alone and Zoos Behind
Not everyone enjoys their visit to the zoo. Hear why Tim Zimmerman believes we should reconsider our arguments for keeping zoos open. He offers an alternative to traditional zoos that can make both animals and human visitors happy.
Article: The Washington Post
At Zoos, Not Every Resident is a Spring Chicken
From protecting elderly animals to preserving endangered species, read more about the benefits of holding animals in captivity.
---
Find  best practices for using Do Now, using Twitter for teaching , and using other digital tools .
---
KQED Do Now U is a bi-weekly activity in collaboration with SENCER . SENCER is a community of transformation that consists of educators and administrators in the higher and informal education sectors. SENCER aims to create an intelligent, educated, and empowered citizenry through advancing knowledge in the STEM fields and beyond. SENCER courses show students the direct connections between subject content and the real world issues they care about, and invite students to use these connections to solve today's most pressing problems.
Should Animals Be Kept in Zoos?
14 July,2017
SENCER
Explore: General , Science , animals , captivity , conservation , Do Now U , endangered species , wildlife , zoos
Click to share on Facebook (Opens in new window)

Click to share on Twitter (Opens in new window)

Click to share on Pinterest (Opens in new window)

Click to share on LinkedIn (Opens in new window)

Click to share on Google+ (Opens in new window)
Show Comments (
14
)
Hide Comments
Some sources/links do not work in this piece, for example, "2,800 licensed animal exhibitors" links to the AZA page. It gives no source for that number. The link in the "high mortality rate" goes to a blank page. Instead of repeating the AZA's press release, how about a little bit of critical analysis of the organization's inherent conflict of interest? It's very existence is to promote zoos.
And conclusions are left hanging. "Lastly, zoos help endangered populations by using captive breeding and release." Release? Most zoos don't even attempt it. How about some examples, figures, stats, anything? None of the captive-bred mega fauna – elephants, chimpanzees, gorillas, tigers, for example – have ever been released to the wild.
I understand this wasn't meant to be a scholarly piece, but fundamental critical thinking skills must be employed.

Even though zoo's are beneficial to scientific research I feel as if these animals should live their life as they are desired to. So they are the animal we all fascinate over not a pet.

I agree that they should live their life as they were meant to be. They're not meant to be held in these conditions. #MyCMSTArgs

Excellent article.

I would have to say that it's incredibly selfish for us to keep animals caged up just for the sake of entertainment. Granted, the article does mention that zoos serve as a tool for research, but I don't believe that our desire for inquiry should outrank the safety and freedom of animals, and subject them to such miserable conditions.

Bryan Shin, #muhon2020

I agree with you that it is selfish to keep animals in the zoo for entertainment purposes. They should be out in the wild, in their natural habitat, living under their own conditions they were meant to be for. I do not believe that the zoos should serve as a tool for research, as that is binding the animals there. One can easily go out and research about an animal without keeping it in captivity. #MyCMSTArgs

It is selfish to keep animals in the zoo for entertainment purposes. In the first place, they should be out in their natural habitat. I do not believe that the zoos should serve as a tool for research, as that is binding the animals there to the zoo. One can easily go out and research about an animal without keeping it in captivity and then displaying them until they die for entertainment purposes. They're not meant to be held in these conditions. #MyCMSTArgs

I completely agree.with you. It is selfish for us to have zoos for our own entertainment. It's cruel and makes them depressed. #MyCMSTArgs #DoNowUZoo

i agree with you! I believe that a healthier way for these animals is to capture the injured and keep them long enough for them to recover but then let them go back to their homes once their healed. Another cool idea would be to have visiting hours so people can watch the recovery process of these animals. #MyCMSTArgs

i believe that animals should not be in zoos any more because it is like a jail for humans. However, there are some benefits for animals living in the zoo, they can have sweet food and be in a nice environment. In my opinion, i believe that animals have to be free to live where they want without humans help. Animals are as responsible as humans to do whatever they want. Zoos should be closed.

Putting animals in zoos is just like how prison is to people. It is completely cruel and just inhumane. They belong out in the wild with all the space they want and need. It is not fair to them and we do not own them. They should have the same freedom as we do. We only put people in cages when they are bad, but why are we putting innocent animals in cages? They usually end up super depressed and are just overall upset there. Zoos are not important enough to torture these animals just for our own entertainment.
#MyCMSTArgs #DoNowUZoo

ANIMALS SHOULD NOT BE KEPT IN ZOOS FOR ENTERTAINMENT. Putting an animal in a zoo is like locking someone up in prison for something they did not do. When you keep an animal in a zoo, you are taking them away from their natural habitat and away from their families and or animal friends (lol). When an animal is locked up they can develop many health problems, to go further into detail go to this website and check it out http://www.peta.org/living/entertainment/reality-zoos/ #MyCMSTArgs #DoNowUZoo

what i think is that these animals should go free they have a life they have a family they got friends they have just a good of a right to be free as we do

i think that some animals are mean and violent such as panthers or tigers then as they do in zoo tame them till they are really nice and
let go in the wild , people might agree to do t- WAIT A SECOND…. if we make it nice it cant defend itself when others animals come.
Sponsored by
Become a KQED sponsor
Trending
UAE

Crime
Education
Environment
Government
Health
Transport
Science
Weather
Xpress
Ramadan

World

Gulf

Bahrain
Kuwait
Oman
Qatar
Saudi
Yemen

Mena
Europe
Africa
Asia

India
Pakistan
Philippines

Oceania
Americas

Business

Banking
Aviation
Property
Energy
Analysis
Tourism
Markets
Retail
Personal Finance
VAT
SME
Dirhams and Dollars

Opinion

Editorials
Op-Eds
Letters
Columnists

Sport

UAE Sport
Horse Racing
Cricket
Football
Motorsport
Tennis
Golf
Rugby

Entertainment

Hollywood
Bollywood
Pakistani Cinema
Pinoy Celebs
South Indian
Arab Celebs
Music
TV
Books
Theatre
Arts+Culture

Going Out

Bars+Clubs
Movie Reviews
Restaurants
Events
Society

Food
Travel
Lifestyle

Health+Fitness
Family
Community
Home
Fashion
Weekend Review

Tech

Electronics
Gaming
Trends
Fin-Tech
Media
Overclocked

How To

Employment
Passports & Visas
Your Money
Legal

Videos

Best Of Bollywood
News
Entertainment
Business
Sport
Going Out
#Pinoy
Community
StoryTellers
Travel
Technology
Prayer Times
Gold/Forex
Cinema Listing
Ideas Runway
Animals should be kept in zoos
---
Tuesday, November 27, 2018
Gold / Forex
---
Editorials

Op-Eds

Letters

Columnists
Animals should be kept in zoos
It was the parent's responsibility to keep an eye on her child
---
---
---
A lot needs to be changed and improved at zoos in order to make sure that animals are kept in a better setting, although no setting can ever meet the environment that they are supposed to be in.
Whether or not keeping animals in zoos will protect endangered species from loss of habitat and commercial poaching, I am undecided. It would be ideal if that was actually the case, but I do not think that it is possible to achieve that. The issue with protecting these animals is sadly the fact that too much money is involved and we can't protect the animals from people's greed and dishonesty. Considering that, I do not think that zoos are bringing the end of certain species due to bad safety regulations because if anything, zoos are contributing to prolonging the life of certain animals, thus delaying their extinction.
In the recent case in which a gorilla was shot to save the life of a four-year-old boy, there was simply no other choice than to shoot him. It is definitely a horrific accident but it was something that we had no control over. It stuns me as to how the boy was able to get away with doing such without anyone noticing or doing anything about it. Everyone is to blame for this. However, if my dog bites someone while on a walk, irrespective of who walks him, I am to blame for that. With that in mind, the parents of the child are accountable as they would have probably kept the zoo accountable if it was the other way around, and the boy died.
Debating whether zoos should close down is not viable because letting these animals back to their natural habitat is not an option. Keeping them in captivity is the best option, however, it needs to be done in a proper way that protects the well being of the animal — and not for the sake of display. At the end of the day, these animals have provided human beings with great educational input, how else would we learn about these animals? In conclusioon, zoos have a right to exist, for the sake of education and protection of endangered species.
— The reader is a Dutch veterinarian based in Dubai
Trending
Hezbollah is crippling Lebanon


---

Why Sangh Parivar is attacking Supreme Court


---

Social media: it's all just for show


---

A grand alliance in Kashmir is possible


---

May's Brexit deal is already doomed


---

Why we mark Commemoration Day

✕
This website stores cookies on your computer. These cookies are used to improve your experience and provide more personalized service to you.
Both on your website and other media. To find out more about the cookies and data we use, please check out our Privacy Policy .
Skip to main content
The Guardian view

Columnists

Cartoons

Opinion videos

Letters
Zoos are prisons for animals – no one needs to see a depressed penguin in the flesh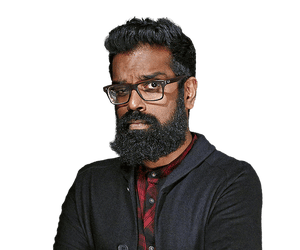 Romesh Ranganathan
In an age when David Attenborough can virtually take us inside an elephant's bottom, is there any or conservational value to keeping animals in captivity?
Share on Facebook




Share on Twitter




Share via Email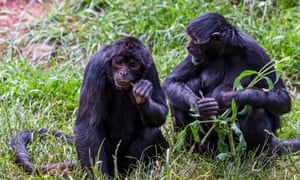 That a zoo in Cumbria is having its licence revoked as a result of nearly 500 animals dying there over a two-year period comes as no shock – but it still slightly surprises me that anybody thinks that we should have zoos at all. The animals always look miserable in captivity. If you don't believe me, visit a farm park. It's as likely as not that you will see a goat, pleading with its eyes to be euthanised, while a sign on the enclosure says: "Gerry the goat is quite the character – he often plays a game in which he looks like he has been crying for many, many hours!"
A lot of zoos play the conservation angle, which is a rationale that has been reverse engineered. That's not really why zoos exist. Zoos exist so that we can wander round with our children and say: "No, don't bang the glass, Timothy, he's getting agitated," before going home to post on Facebook about the educational day that we have had.
The argument that zoos have educational merit might have once seemed convincing, but there is less reason to see animals in captivity than ever before. David Attenborough's Planet Earth shows you all the animals you could ask for in their natural habitat, with added drama and narrative arcs. We are surely only a few series away from filming inside the animals, with Attenborough using his dulcet tones to give the origin story of an elephant turd. Why, then, do we need to see them in prison?
On holiday recently, I was persuaded by my family to visit a marine theme park that bombards you with messages of preserving marine life. We spent the afternoon seeing seals and penguins that looked to be in varying stages of depression before taking in the dolphin show, which meant watching a two-minute video about saving dolphins, and a 10-minute demonstration of how the park has managed to enslave them and get them to perform tricks. I wondered about the message behind getting the dolphins to pull some kids around in a boat almost as much as I wondered why my own children hadn't been offered that experience.
When Cecil the lion was killed, the general public were so incensed that the dentist who shot him became an international hate figure; the perfect example of the public picking and choosing when to give a shit about animals. It's apparently really bad to shoot Cecil despite the fact he has had a much better life than the huge number of lions that we continue to keep in captivity. I am not suggesting that it is wrong to care about Cecil, but if we are in uproar about that, why aren't we as upset about the animals in tanks and cages, or the ones that we eat? I wonder if we would have been so upset if the lion didn't have a name. Or was called Piers.
There are counter-arguments, of course. After a visit to the Sea Life centre in Brighton, my eldest son took a passionate interest in marine life that has stayed with him, and I wouldn't be surprised if animal conservation went on to be one of his primary concerns. This is almost certainly as a direct result of our visit, but it's also first-world privilege in micro form: "We must have some animals in cages for little Stephen to look at, otherwise how will he learn?"
Similarly, the idea that kids only get excited about things they can see in the flesh is ridiculous. My kids are obsessed with dinosaurs that no longer exist, and Skylanders, which have never existed. One of our sons watches endless YouTube videos of Kinder Surprise eggs being opened, so the bar is set pretty low in terms of what will get him interested. I would, however, be delighted to hear that the YouTubers responsible for these videos had been put in a series of cages for our enjoyment.
I have no doubts that the people working in zoos, safari parks and conservation centres all really care about the animals. But there is a pretty strong argument that there is a negative effect on conservation awareness, given that children take away the message that "endangered species" are probably OK because they have seen them in the zoo. Plus, zoos and conservation spaces are impossible to effectively regulate. Have a look online and see the number of cases of animals being killed because of lack of space, horses being painted to look like zebras, animals in aquariums showing clear signs of distress.
Still, I was struck by my own hypocrisy when I was looking to get a family pet. When I found myself Googling: "How long will a puppy cry for its mother and siblings," it occurred to me that I probably no longer wanted to do it. The idea that I don't want animals to be imprisoned, but that I quite fancy having a prisoner of my own doesn't sit comfortably. This might sound extreme and no doubt cat owners will tell me that their cats are free to go wherever they want but always return. I live in Crawley, however, and often when I'm out I immediately want to return straight home. I could never be sure if the cat coming back was a thumbs-up for the family, or a silent protest against the lack of amenities in town. I'm also starting to consider setting my children free.
Topics
Animal welfare

Animals

comment
Share on Facebook




Share on Twitter




Share via Email




Share on LinkedIn




Share on Pinterest




Share on Google+




Share on WhatsApp




Share on Messenger



Loading comments… Trouble loading?