Facility
Services

Partial Hospitalization Program
Intensive Outpatient Program
Alumni Program

Treatment

Substance Use Treatment Recovery in Florida
Affording Addiction Treatment
Drug Rehab
Alcohol Rehab
Residential Treatment
Outpatient Programs
Dual Diagnosis Treatment Program
12-Step Programs
Addiction Therapy
Relapse Prevention

Detox

Hospitalization
Medication
Side Effects

Addiction

Alcohol
Barbiturates
Bath Salts
Benzodiazepines
Carfentanil
Hydrocodone
Inhalants
Librium
Marijuana
Morphine
Opioids
Over-the-Counter-Drugs
Sedatives
Stimulants
Tramadol
Vicodin
Xanax

Resources

Addiction Guide for Spouses and Partners
Addiction Rehab Guide for Couples
LGBTQ Addiction Treatment Resources Guide
Drug Rehab for Addiction and Mental Health

Blog
Contact Us
Talk to a treatment expert
844-557-8575 Calls are free and confidential
Get Help Today, Call 24/7
844-557-8575
Get help 24/7 now
free and confidential
LSD: Coming to Terms with Flashbacks
by pathway
June 25 2015
| 0 comments |
Like

likes
| Under: Blog
HPPB, Hallucinogen Persisting Perception Disorder, is the medical term for the flashbacks that many former LSD users experience. Flashbacks can be terrifying. They can be unexpected and distracting. And they can last for years.
LSD is an extremely powerful mood and perception-altering drug, a hallucinogen. The hallucinations caused by taking this drug can last for 6-12 hours, even in small doses. And the potential for dependence is high. But these hallucinations are different from what is felt by the user months and years after they stop using the drug. Many people assume that LSD flashbacks mimic the hallucinations experienced during the drug use, but HPPB is a very different animal. It is one of the most common long-term effects of LSD.
Understanding HPPB
The slang term "flashbacks" refers to repeated and sudden distortions in the senses. Most often they are visual disturbances, and both a warping of what is actually before the person or things that aren't even there.
These symptoms may be caused by changes deep within the brain, but are not (as earlier research suggested) remnants of the drug still circulating in the body.
Here are the most common visual disturbances that former LSD users say they have experienced:
Impaired perception of colors
Moving light around the edges of objects
Flashes of color
Seeing geometric shapes that aren't there
Seeing frightening illusions
Halos or trails of light from objects
Someone with HPPB may make the rounds of several medical professionals, trying to find out what is causing these symptoms, not realizing that they are related to the former LSD use. Unfortunately, some people with HPPB have almost continuous episodes of visual and perceptual disturbances, so frequently that it interferes with their daily life.
Treatment for HPPB is supportive, since there is no known cure yet. Anti-depressants seem to help.
Leave a Comment
Click here to cancel reply.
Can't Find What you are looking for?
Have one of our team members call you within one hour.
2018 ALL RIGHTS RESERVED
Call 844-557-8575
Could you actually have an LSD flashback decades after taking the drug?

Keith Veronese
Filed to:
Debunkery
Filed to:
Debunkery
Debunkery
Lysergic acid diethylamide
Drugs
Lsd
Medicine
biochemistry
urban legends
Science
Sci
tweet
Fb
Edit
Embiggen
Send to Editors
Promote
Share to Kinja
Toggle Conversation tools
Go to permalink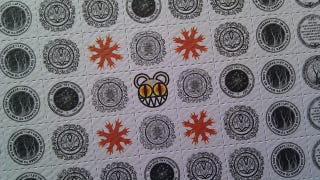 Ever hear someone tell a tale about an elderly man who used LSD in his youth going on a fish trip, only to randomly have an LSD-linked flashback and die via drowning? Scary, eh? I remember this urban legend particularly well, thanks to an unusually creepy elementary school assembly about drug awareness.
Stories of flashbacks occurring years after taking LSD are a part of urban legends and internet lore, but do they really happen?
Can the human body store LSD?
The hallucinogenic effect associated with LSD use typically begins thirty minutes after ingestion, and they increase in potency until the four to five mark. After the peak, the effect of the chemical wanes as the hours pass, with psychological effects rarely felt after the eight hour after use passes.
Contrary to urban legend, your body does not store molecules of lysergic acid diethylamide in the base of your spine, subcutaneous fat, or anywhere else in your body. LSD has a short half-life of three to four hours, with the entirety of a dose metabolized by the body within a day and excreted in the urine.
LSD is metabolized quick enough that any trace of the molecule will be eliminated within a day. This leaves none of the molecule available to be stored in the spine or fat, regardless of whether or not spinal fluid or fat provides a stable storage environment for the molecule.
HHGP and flashbacks
Here is the good news — if you are going to have an uncomfortable series of adverse effects (like a psychotic episode) from consumption of LSD, the episode will occur shortly after use. Mild flashbacks are also constrained to the days and (possibly) weeks following the last dosage.
A sudden change in perception that occurs in some users months or years after the discontinued use is known as Hallucinogen Persisting Perception Disorder (HPPD). HPPD is linked to persistent LSD use, but is not due to buildup of the molecule within an individual's body.
An individual experiencing such an HPPD flashback undergoes a period characterized by intense visual stimuli — trails following moving objects, a television-like static applied to the field of vision, and color changes. Current medical opinion is divided as to the cause of these flashbacks, with a portion of the medical community labeling it a form of post-traumatic stress disorder while another segments links it to changes in brain morphology tied to the long-term use of LSD or other hallucinogens.
While neither of these schools of thought have enough evidence to provide a definitive origin of HPPD flashbacks that occur late in life, one can rule out their origin from the internal release of LSD due to the molecule's short half-life.
Who started the LSD flashback rumors?
The link between use of LSD during the 1960 and the occurrence of flashbacks after decades of use has an unusual and fallible origin. At a 1991 educational meeting for law enforcement agents held by the Drug Enforcement Agency San Francisco, CA, a speaker allegedly tied the number of homeless in San Francisco to the use of LSD in the 1960s and the Summer of Love.
During the meeting, the speaker suggested that the "re-release" of LSD molecules "hidden" in the bodies of users led to untimely and psychotic flashbacks, thereby increasing the number of homeless, poor, and mentally ill in the city. No official transcript of this meeting exists, although versions of a quote from the speaker exist on the internet.
Regardless of the lack of evidence, making such a statement during an educational meeting for law enforcement could easily cement the link between LSD "hidden" away in one's body leading to modern impairments and form the basis of this urban legend.

Top image from Matt Honan/Flickr . Sources linked within the article.
Gizmodo
NASA's InSight Lander Sends Back Stunning Image of the Martian Horizon
Gizmodo
Watch a First-Time Hang Glider Hang On for Dear Life After Realizing He's Not Strapped In
Lifehacker
Make Sure You Didn't Download One of These Malicious Apps From Google Play
Recent from Keith Veronese
The Cabal Attacks On Avengers Assemble And A Nod to Heinlein On Hulk
Stop What You're Doing and Watch Rick and Morty
The Ninja Turtles Revisit the 1980s in an Hour-Long Special
NCBI

Skip to main
content
Skip to
navigation
Resources
How To
About NCBI Accesskeys
My NCBI Sign in to NCBI Sign Out
PMC
US National Library of Medicine

National Institutes of Health
Advanced
Journal list
Help
Journal List
Ochsner J
v.7(1); Spring 2007
PMC3096346
Ochsner J

. 2007 Spring; 7(1): 37–39.
New Onset LSD Flashback Syndrome Triggered by the Initiation of SSRIs
Sarah Goldman , MD, David Galarneau , MD, and Richard Friedman , MD
Author information Copyright and License information Disclaimer
This article has been cited by other articles in PMC.
Abstract
During the 1960s, lysergic acid diethylamide (LSD) emerged as a widely popular drug, used by a substantial portion of the adolescent and young adult population. Since Major Depressive Disorder is a common disorder, clinicians will increasingly encounter patients who used LSD in the far distant past and now require treatment with antidepressant agents. We describe such a case in the following report of a patient who experienced a troubling array of unusual side effects, which we postulate to be a new onset LSD flashback syndrome triggered by selective serotonin reuptake inhibitors (SSRIs).
Keywords:
LSD fashback, selective serotonin reuptake inhibitors, SSRIs
CASE REPORT
A 47-year-old single white male with a long history of mood disorder and alcohol dependence, recently diagnosed with bipolar disorder by his internist, presented to our outpatient clinic seeking a second opinion. The patient reported 2 years of worsening depression and severe panic attacks. He stated that his mood was worse in the mornings and reported feelings of guilt and worthlessness, as well as initial insomnia. During a typical panic attack, which often lasted an entire day, he experienced heart palpitations, disorientation, hyperventilation, nausea, diarrhea, and stomach pain. The patient also described feelings of being "better off dead" but denied any current suicidal plan. He did not endorse any current or previous manic symptomatology.
The patient reported active alcohol abuse at the time he was diagnosed with bipolar disorder. At the time of presentation to our clinic, he had been sober for 5 months, following an alcohol detoxification and rehabilitation program.
He had a long history of alcohol and substance abuse, beginning during adolescence and had used marijuana and lysergic acid diethylamide (LSD) frequently during high school. On average, he used one tab of LSD two to three times per week during that period. His experiences on LSD were not pleasurable, and he reported "freaking out" and having bad trips. He reported similar experiences with marijuana, and by his freshman year of college, the patient was using alcohol almost exclusively. His last experience with LSD was in college, 25 years prior to the current presentation. Once he had taken LSD, he experienced the world in a different way, often feeling claustrophobic or "a sensory overload." He reported no history of flashbacks prior to 1999.
The patient was first treated for depression and anxiety in 1999 by an internist, who prescribed paroxetine. After taking one tablet of an unspecified dose of paroxetine, he began "tripping," an experience less intense than previous trips on LSD, but still characterized by visual hallucinations of vibrant colors. This experience was an "awful bad trip." He continued to take the paroxetine as prescribed for a few days, but this reaction persisted and he stopped the medication. Subsequently, treatment with the combination of sertraline and buspirone did not result in the same "tripping" reaction, but he did not feel like himself and experienced visual disturbances, leading him to stop this treatment after a few months. He was then treated with citalopram and buspirone, which resulted in a reaction similar to that with the sertraline and buspirone combination. He was compliant with the regimen for 6 months.
A few years later, after the events of September 11, 2001, the patient took an unspecified dose of buspirone and "flipped out," feeling that he wasn't himself. In 2002, he began treatment with bupropion to help him stop smoking and went "maniacal," experiencing palpitations, facial flushing, a terrible temper, and visual hallucinations of vivid colors, "like a trip." In summarizing his experiences with psychotropic medications, the patient reported that the paroxetine reaction was "extreme," while the other reactions were "severe." His experiences with these psychotropic medications led his internist to diagnose bipolar disorder.
DISCUSSION
Interactions of LSD with the Selective Serotonin Reuptake Inhibitors
To the best of our knowledge, this is the first case report of a patient who experienced an LSD flashback syndrome with selective serotonin reuptake inhibitor (SSRI) treatment after a very long 25-year period of abstinence from LSD use.
Although data about the interactions between SSRIs and LSD are limited, there are some reports describing this phenomenon. Bonson et al, in a study of 32 volunteer subjects who were currently using LSD and receiving chronic SSRI therapy, found that chronic SSRI administration attenuates the subjective hallucinogenic effects of LSD (1) . Of the 32 subjects in this study who received SSRI treatment for at least 3 weeks, 28 individuals reported decreased responses to LSD while on the antidepressant therapy. One month after discontinuation of the SSRI, the responses to LSD of some subjects returned to normal, suggesting that the alterations in neurotransmitter systems caused by chronic SSRI treatment mediated the reduced response to LSD (1) . These investigators and others have suggested that SSRI treatment does not generally have the hallucinogenic effects of LSD because SSRIs elevate serotonin (5-HT) and thus indirectly act at all subtypes of 5-HT receptors, while LSD specifically targets 5HT-2A receptors ( 1 , 2 ).
Interestingly, one subject in the Bonson et al study reported an increased response to LSD when taking it concurrently with fluoxetine. In contrast to the other subjects, this patient had initiated the SSRI treatment much more recently, only 1 week prior to the intensified hallucinatory experience.
Markel et al describe two patients who experienced LSD flashbacks shortly after initiation of treatment with SSRIs (3) . The two cases involved teenagers who were only recently abstinent from LSD, beginning SSRI treatment within 1 year of the last LSD use. These patients described long-lasting flashbacks immediately following the initiation of SSRI therapy, consisting of visual disturbances, vivid colors, and feelings of being disconnected from reality.
Interactions of LSD with the Serotonergic Receptor System
Since the discovery of the hallucinogenic properties of LSD in 1943, investigators have worked to elucidate the mechanisms by which the drug exerts its effects. In the 1950s, the serotonin (5-HT) hypothesis of the action of hallucinogenic drugs suggested that LSD worked as a 5-HT antagonist in the central nervous system and later suggested that LSD could also mimic the actions of 5-HT (2) .
Research in the 1970s and 1980s expanded upon the 5-HT hypothesis, describing various subtypes of serotonin receptors. For several hallucinogenic drugs, including LSD, there was no correlation between their affinity at the 5-HT1A receptors and their hallucinogenic activity. There was, however, a high correlation between hallucinogenic properties and the affinity of these drugs at 5-HT2 receptors (2) .
The long-term effects of LSD on the central nervous system remain unclear. Nevertheless, there is a documented phenomenon of Hallucinogen Persisting Perception Disorder (HPPD), in which individuals have "flashbacks" years after cessation of LSD use. The research regarding HPPD has been limited, due in part to varying definitions of the term "flashbacks" (4) . One proposed etiology of this disorder is that LSD causes a destruction of inhibitory interneurons that are seroto-nergic at the soma and GABAergic at the terminals ( 5 , 6 ). This hypothesis is supported by the partial responsiveness of HPPD to treatment with GABA agonists such as benzodiazepines. Another suggested etiology is that hallucinogen exposure may combine with other biological co-factors, such as cannabis or alcohol, to dysregulate genes linked to visual cue processing (4) . This hypothesis is supported by data showing that LSD alters the genetic expression of neuroreceptors thought to be involved in the pathophysiology of psychotic disorders such as schizophrenia ( 4 , 7 ).
Postulated Mechanisms for LSD Flashbacks Following Initiation of SSRIs
There are several possible explanations for these flashback responses to acute SSRI therapy in patients who are concomitan tly abusing LSD. First, these individuals' reports could reflect the somatic, hallucinatory, and sympathomimetic sensations that patients sometimes report following initiation of SSRI treatment in the absence of LSD. It is possible that individuals who use or have used hallucinogenic drugs are more sensitive than non-users to these SSRI side effects (1) . An alternative explanation is that initial SSRI therapy potentiates the effects of LSD, since acute fluoxetine administration has been shown to increase the LSD-induced suppression of serotonin raphe neuron firing (8) . This suppression normally results in a disinhibition of target neurons in the visual and limbic systems, accounting for the changes in mood and altered visual perception associated with LSD. Increased inhibition of raphe firing by co-administration of an SSRI with LSD could therefore result in enhanced hallucinogenic effects of LSD due to disinhibition of visual and limbic system neurons. Thus, the aforementioned individual in the Bonson et al study may have had an increased response to LSD during initial fluoxetine therapy due to a potentiation based on the similar initial effects of both drugs (1) .
Our patient differs from those described in the Bonson et al study in that he had not used LSD in many years, whereas the volunteer subjects were using LSD while receiving SSRI treatment. Also, in contrast to our patient, the two patients in the Markel et al case report used LSD only 10 to 11 months prior to the initiation of SSRI therapy (3) .
There are several possible explanations for our patient's reaction to the initiation of SSRI therapy. One is that his previous exposure to LSD resulted in the destruction of inhibitory serotonergic interneurons. Perhaps these interneurons have an inhibitory effect on 5HT2 receptors in LSD-naïve patients, blunting potential hallucinogenic effects mediated by these receptors. In our patient, this inhibition may have been absent, so that the sudden increase in 5HT produced by initial SSRI therapy would lead to hallucinogenic experiences.
Another explanation is that our patient's serotonin receptors remained in a state of permanent up-regulation following his previous LSD use. As a result, an acute surge of synaptic serotonin, as can be seen with the initiation of SSRI treatment, would result in a highly enhanced sertotonin signal (9) , which might lead to hallucinogenic effects.
Our patient might have been experiencing the commonly reported sympathomimetic side effects of initial treatment with serotonergic antidepressants and iden-tified these effects as similar to his past LSD experiences. It has been suggested that flashbacks represent increased awareness of normal visual phenomena, or normal memory of emotionally distressing experiences induced by LSD in the past (4) . It is possible that our patient was more attuned to unusual visual or somatic sensations due to his past experiences with LSD.
Several factors could affect our formulation of this case. First, our patient admitted to having used other substances in the past, such as marijuana and alcohol, and it is likely that he was using alcohol while receiving SSRI therapy. These substances may have contributed to his hallucinatory experiences. As mentioned previously, hallucinogen exposure may combine with cannabis or alcohol to dysregulate genes linked to visual cue processing, thus leading to flashbacks (4) . Additionally, both SSRIs and LSD act on a variety of neurotransmit-ter systems, in addition to the serotonergic system. Thus, alterations in other neurotransmitter levels may have affected our patient as well. His account of his experiences was also retrospective; perhaps his memories of the visual and somatic sensations were more extreme than the actual experiences themselves. As is so often the case, it is likely that a number of phenomena were at play simultaneously, resulting in an integrated, complicated, and often confusing clinical picture.
With these limitations in mind, one disturbing implication of this case is that exposure to LSD, and perhaps other hallucinogens that share its pharmacology, may permanently alter key neuronal systems that produce a vulnerability to flashbacks, even years after the cessation of the drug.
REFERENCES
Bonson K. R., Buckholtz J. W., Murphy D. L. Chronic administration of serotonergic antidepressants attenuates the subjective effects of LSD in humans.

Neuropsychopharmacology.

1996;

14

(6):425–436.

[ PubMed ]

Aghajanian G. K., Marek G. J. Serotonin and hallucinogens.

Neuropsychopharmacology.

1999;

21

:16S–23S.

[ PubMed ]

Markel H., Lee A., Holmes R. D., Domino E. F. LSD flashback syndrome exacerbated by selective serotonin reuptake inhibitor antidepressants in adolescents.

J Pediatr.

1994;

125

:817–819.

[ PubMed ]

Halpern J. H., Pope H. G., Jr Hallucinogen persisting perception disorder: what do we know after 50 years?

Drug Alcohol Depend.

2003;

69

:109–119.

[ PubMed ]

Abraham H. D., Aldridge A. M. Adverse consequences of lysergic acid diethylamide.

Addiction.

1993;

88

:1327–1334.

[ PubMed ]

Abraham H. D., Aldridge A. M., Gogia P. The psychopharmacology of hallucinogens.

Neuropsychopharmacology.

1996;

14

:285–298.

[ PubMed ]

Nichols C. D., Sanders-Bush E. A single dose of lysergic acid dyethyl-amide influences gene expression patterns within the mammalian brain.

Neuropsychopharmacology.

2002;

26

:634–642.

[ PubMed ]

Trulson M. E. Dissociations between the effects of hallucinogens on behavior and raphe unit activity in behaving cats.

Pharmacol Biochem Behav.

1986;

24

:351–357.

[ PubMed ]

Duman R. S., Heninger G. R., Nestler E. J. A molecular and cellular theory of depression.

Arch Gen Psychiatry.

1997;

54

:597–606.

[ PubMed ]
---
Articles from
The Ochsner Journal
are provided here courtesy of
Ochsner Clinic Foundation
Formats:
Article

|

PubReader

|

ePub (beta)

|

PDF (459K)

|

Citation
Support Center
Support Center
External link. Please review our privacy policy .

National Center for
Biotechnology Information ,
U.S. National Library of Medicine

8600 Rockville Pike, Bethesda
MD, 20894
USA

Policies and Guidelines | Contact